CLEMSON – If the defensive backfield is not the most improved area of the Clemson football team this season, it might be the the defensive end position.
Because the Tigers are still waiting on eight defensive back signees from the freshman class to arrive this summer, the defensive end position is the most improved group this spring.
Dabo Swinney looks around and sees Vic Beasley up to 232 pounds, looking more like a defensive end than the wide receiver playing defensive end he was last season. Swinney called Beasley a "science project" last year. It worked (8 sacks in limited time). Beasley said he's more comfortable this spring because he's focused on one position.
Swinney looks around and sees Corey Crawford and Tavaris Barners each another year stronger and more knowledgeable. Swinney raves about Barnes' talent. (Though he might be something of a DT/DE tweener). He looks around and sees two four-star early enrollees in Shaq Lawson and Ebenezer Ogundeko. DC Brent Venables has raved about the hands and body Lawson possesses.
Clemson's defense was often a liability last season because it couldn't generate pressure with its front four.
Clemson allowed 45 passing plays or 20 yard or more, yes 45. (Ranking 93rd in the FBS)
Clemson finished 69th in the country in yards allowed per play 5.65.
Clemson finished 68th in opponent QB rating (131.2).
But with improved play from defensive ends couple with a deeper and more talented secondary, it's conceivable Clemson makes a big jump in defensive production in 2013. It's simple math: more pressure and better coverage equals big gains in performance.
Swinney expects 'significant gains' in 2013 and believes the defense started to make improvement in the second half under Venables last season.
"If you can be good in the front seven you have a chance to be really good on defense and we are going to be good in the front seven," Swinney said. "We have at end what we had at defensive tackle last year: a lot of talented guys and with that came a lot of competition. Guys make each other better. When you have that competitive depth it's a positive."
I don't think it's just Dabo hyperbole, I think the defense could become one of the top 30 defenses in the country in 2013.
And if Clemson wants to be a national title contender it likely requires a much improved defense than the one it fielded last season. Of the last seven national title winners, only Auburn in 2010 has a suspect defense but even its front seven has a difference maker in Nick Fairly.
So Clemson has to get better up front and by what we've heard and seen this spring, I suspect Clemson has made significant strides in becoming the defense it wants to be.
THE WORLD'S BIGGEST VIDEO GAME SCREEN?
Clemson has a jumbo-sized video board in its indoor practice facility. Why? But to better see the video games it plays, of course.
From Jeff Scott's Twitter account:
Got our PS3 hooked up to our video board in our new indoor. #technology pic.twitter.com/u4bfskxbnP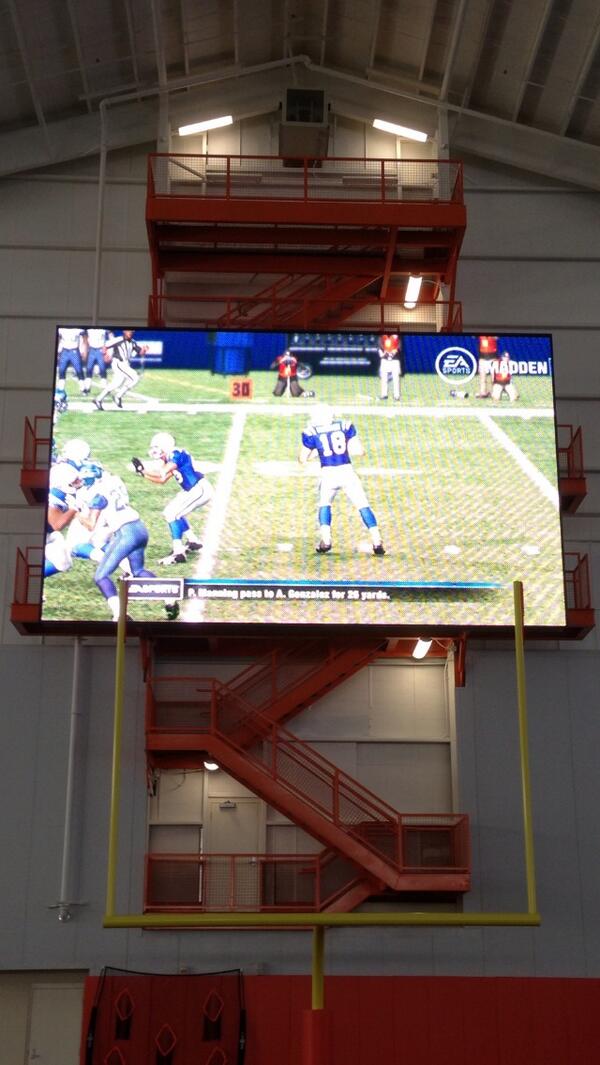 You can thank Clemson for the indoor practice facility video board arms race.